In this article, we are going to talk about Ethical Hacking Certifications, First of all, I'm going to tell You about What is Ethical Hacking?
What is Ethical Hacking?
Ethical Hacking is a term utilized for cybersecurity experts. The job role is to identify vulnerabilities in networks, application systems, anything that is IT infrastructure, we're supposed to identify all the vulnerabilities over there.
And then we're trying to patch them up so that hackers are unable to misuse those vulnerabilities and thus be increased the security posture of that particular organization,
we use the same tools that are used during Hacking, except that the intent is different. The intent here is to identify the vulnerabilities and then remedy them instead of misusing them.
Purpose of Ethical Hacking
Organizations hire Ethical hackers to conduct a simulation of an exercise that a hacker might undertake those compromising the security of an organization.
So in this case, the Ethical hacker scenario is to identify any flaws, or any vulnerabilities that have been left behind, bring it to the attention of that organization, so that they can remedy those scenarios, thus preventing actual incidents from happening.
So this would result in the data, the infrastructure of the organization is protected, and the Ethical hackers would have enhanced the security of that organization, the system, vulnerabilities would be minimized to an acceptable level,
there is no way that you can get rid of all the vulnerabilities altogether, but in a structured manner, you can identify the most critical ones and patch them up so that they cannot be misused.
So Who Are Ethical Hackers?
Ethical Hacker is an individual who was employed by the company and given permission to perform security assessments. So they have authorization from the company. And they would have definite contracts in place, which would detail them of what they are expected to do, what they're allowed to do, and what should be the result out of that particular activity.
So to remain ethical, whatever the findings are, the Ethical hacker is supposed to report it back to the organization so that they can look into the findings and then can resolve them.
Ethical Hacking Certifications
So let's start looking at the Certifications. So to be an Ethical hacker, you must hold a certification that specializes in Ethical Hacking or in cybersecurity companies look for candidates who are globally certified.
When we say globally certified, they're looking for a certificate that has been given by an organization that is recognized globally and is well accepted in the industry.
So these are the top five Certifications a candidate can obtain.
1. CEH or Certified Ethical Hacker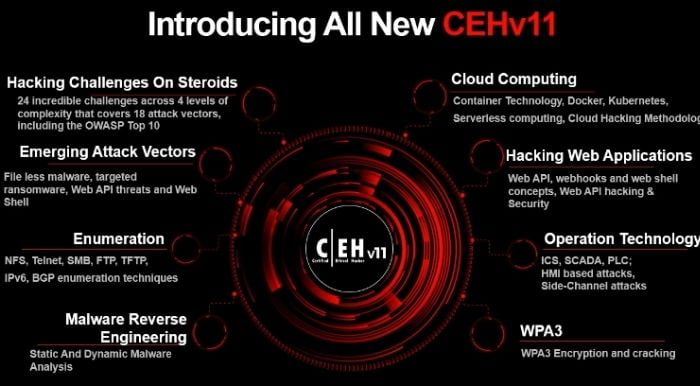 CEH or Certified Ethical Hacker in its current form in version11. It's been revised and updated over a period of time, EC Council is the certifying authority for CEH.
they have their own authorized training centers through which you can attend training, give those exams, get yourself certified and become globally certified, and can be eligible to apply for security-related jobs.
It is a very well known certification and is widely accepted at the same time, it would test the candidate's knowledge of security threats and preventive measures.
Now there are two types of exams that you can give with CEH is a multiple-choice question exam, which is theoretical in nature.
They asked you questions and you answer the correct way. You select the correct answers. If you clear you get certified.
The second certification nowadays is where there's a practical exam associated with it. That's you'll have to purchase the voucher for that exam and give that exam the practical exam is held in a virtual lab where you're given scenarios.
And based on those scenarios, you have to resolve the questions given to you and give proof of the resolution which would then get you certified as an Ethical Hacker.
The theoretical exam in this scenario is the fee is around $500. This is for the multiple-choice question exam, where you can pay the fees and you can attend through an online portal and you can give the exam directly.
The exam is four hours long in which you have to answer 125 questions or four hours for 125 questions seems a long time but it isn't. It's a very technical exam.
There are scenario-based questions It would take some time for you to analyze and understand the question and then identify the equivalent correct answer.
So it's a very comprehensive exam. And you'll have to study really hard to clear this exam as well. The cutoff for passing varies from 60 to 85%.
So there is no exact grade and all the questions have different weights. So depending on the questions that have been given to you, and the way that you have answered them, you would pass at either 60% or you would pass when you score 85%.
Once you CEH certified, which is a very technical certification, you will be qualified to apply for job roles as a penetration tester or a security engineer.
These are job roles where you would be responsible for ethically trying to attack applications, server switches, and try to find out vulnerabilities within them.
The training of this certification will make you adapt to most of these tools that are required. There are a lot of practicals in this trainings and if you successfully completed those practicals clearing the exam is an easy task with the practicals comes to your knowledge and would help you understand how you would be performing penetration tests in the real world.
An average annual salary in the USA for a CEH certified person is around $91,000 and in India is around 476,000 rupees.
2. Global Information Assurance Certification Penetration Tester
 GPEN also is known as the global Information Assurance certification penetration tester. This certification looks into the different pentesting practices and methods also focuses on the various problems and pentesting.
So again, this is where you getting certified as a penetration tester. So it's again a technical certification, where your knowledge on networking applications and security of which will be tested.
You will be trained on this of course to the training will include all these areas where you need to focus, identify those problems, and does be ready for the real-world scenarios
A candidate will have to understand networking concepts and operating systems are Linux and Windows and you should be very well aware of the TCP IP protocols.
This is true for any of the technical Certifications for Ethical Hacking. GIAC is the certification provider. It's again a very well renowned and well-accepted Certification Authority across the globe.
The exam fees are $1,899, with 82 to 215 questions to be answered in three hours. Now, why 80 to 215, it depends on the test that has been associated.
And depending on how you're answering those questions, you would be given those many questions, to begin with.
But all of these need to be answered in three hours. 74% is the past percentage that is required to clear this exam.
The average annual salary in the USA is around $96,000. While in India, it is similar to Certified Ethical Hacking.
3. Offensive Security Certified Professional (OSCP)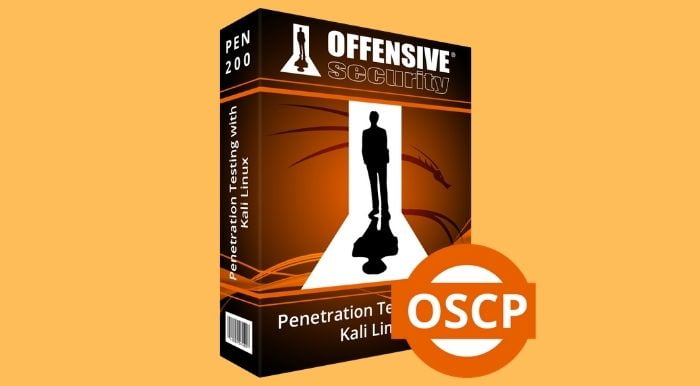 Offensive security certified professional. This is another penetration testing certification highly technical in nature. And it is an entire hands-on certification.
In the previous two Certifications that we saw, we talked about CEH, there are two different exams, you could either take the theoretical exam and give your MCQ or you could take the practical one here, you don't have an option.
This is a practical exam. So the test is conducted on a virtual network. So they send out instructions to you there's a virtual lab that is given up to you.
And they give you the questions and you have to perform those assessments, create those reports and provide it to the certifying authority, in this case, offensive security.
If you match their criteria of whatever you have identified in those reports, you get certified here the requirements of a good understanding of networking protocols, how systems function,
how Kali Linux operating system functions and the candidate must complete offensive security penetration testing with the Kali Linux course and pass the hands-on exam, So this focuses purely on Kali Linux.
Kali Linux is an operating system that is freely distributed over the internet and comes structured with around 300 plus tools used for Ethical Hacking.
So this course totally relies on Kali Linux for you to use as a toolset for penetration testing. The certificate provider is offensive security.
The name of the course is the offensive security Certified Professional exam is around $800 to 1550. Now understand that this exam is technical and is hands-on, So for you to prepare for this exam.
They come up with virtual labs where you can start practicing and honing your skills depending on the number of days for which you purchase access to that Particular labs, the amount will vary from $800, which would be the minimum access days available to $1,550 where the maximum number of days would be given to you for practicing.
The average annual salary is similar to around $91,000 for the US market, and 905,000 rupees in the Indian market,
4. CompTIA PenTest+
CompTIA is another Certification provider or training provider that will help you get yourself certified in the Ethical Hacking space.
So they have a certification called PenTest+, which is focused on penetration testing. So it is an intermediate level certification.
It assesses the vulnerability assessment and penetration testing skills of a candidate here, the training will provide you with all the essentials where it will help you identify how to do vulnerability assessments, how to identify those vulnerabilities.
And then which tools to utilize for what kind of a penetration test.
For the requirements a minimum of three to four years of hands-on experience in the information security field. Also, a CompTIA security plus or a network plus knowledge is required.
So in the network Plus, they talk about securing networks, and they help you understand the OSI layers, the TCP IP layers, and help you understand the protocols and all of those things.
So having that knowledge is an added advantage. The certificate provider is CompTIA and the cost of the exam is around $349 maximum number of questions is 85, And I think it's a three-hour exam the passing percentage is scoring 750 marks out of a possible 900.
So the scale is the minimum you can ever score is 100. If you're completely prepared, the maximum you can score is 900.
You get a levy of 150 marks for your Certifications. So you have to score a minimum of 750 to clear the exam average annual salary for a CompTIA certified penetration test plus professional is $97,000 in the US market and in the Indian market, it would be around five lakh rupees.
5. Licensed Penetration Tester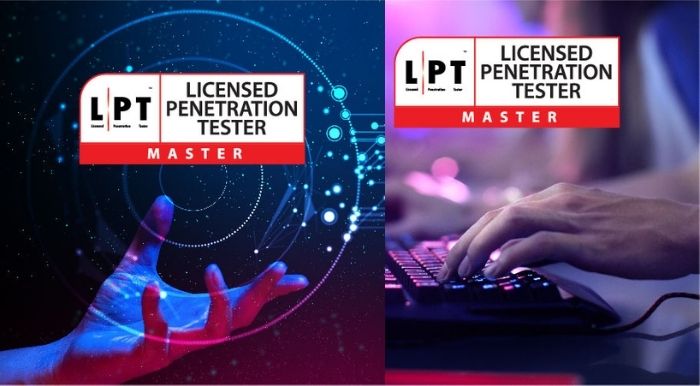 This is an advanced certificate again from EC Council. This is where the EC council gives you a license which certifies that you have undergone thorough training and have cleared your exam in which you can conduct or lead audit for vulnerability assessment and penetration testing.
It is an expert level certification comes after the CEH certification. There is the ultimate test that tests these candidate's penetration testing skills.
So there are two Certifications over here. One is the ECSA, Once you clear that you get you can appear for the licensed penetration tester.
Both of these are hands-on Certifications. So you will be given a virtual lab you will be given a scenario in which you'll have to perform some assessments create reports submitted to the EC Council, they will analyze your reports if they meet the criteria that have been identified.
You will then be certified as a licensed penetration tester. The candidate must be above 18 years of age or recertification is required every three years.
The certificate provider again is EC Council. The licensed penetration tester exam has a different process, the candidate must purchase our exam dashboard for $899, which is valid for a year.
So once you purchase the voucher, the validity is one year, you can prepare within that one year and then give the exam and attain the certification only once you are ready, the exam can be scheduled, and he can give an exam.
The exam consists of three different levels. Each level has three different challenges, the candidate must pass at least one challenge in order to qualify for the next level.
And for each level, the exam is six hours. So this is a grueling exam. This is hands-on. They're giving you challenges and they are going to test you on your skills as a penetration tester.
So be ready to be very hands-on for this kind of certification. The average annual salary in the US is around $100,000 and above and in India 835,000 and above.
Well, that's it for this Article. I thank you for your patience and for going to this Article as well. I'll see you in the next Article.